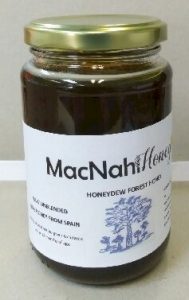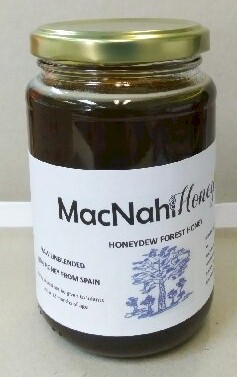 450g Raw Honeydew from forest Honey   £15

Source: Spanish raw unblended honey
dark honey with a rich strong flavour and rich in minerals and has higher than average antibiotic properties. Does not crystallize due to its lower glucose content and high fructose to glucose ratio and less amount of water. .
Honeydew honey is a sugary liquid secreted by insects such as aphids while sucking the plant sap. This sugary liquid is collected by honeybees and converted in to honeydew honey.  Composition, properties and benefits of honeydew honey are different compared to honey derived from nectar of flowers.
Serves as prebiotics: Oligosaccharides present in honeydew serve as prebiotics promoting the growth of beneficial bacteria present in the gut. It is very helpful if consumed after taking antibiotics that are generally used to treat bacterial infections. By improving the gut flora it even helps to increase appetite.
Helps in free radical elimination: high concentration of antioxidants in this honey variety help in elimination of free radicals and reduce the damage caused by them. Thus, intake of honeydew honey promotes general health.
Antibacterial action: Honeydew variety of honey serves as a powerful antibiotic due to presence of high glucose oxidase activity. High enzymatic action results in production of increased amounts of hydrogen peroxide that acts against bacteria. In fact, it serves as a strong antibacterial agent than manuka honey renowned for its very high antibacterial action. Being an antibacterial agent it serves as a perfect remedy for cough.
Nourish the nervous system : High concentration of amino acids and minerals such as cobalt, manganese, zinc, phosphorus and sulphur help in nourishing the nervous system. It even helps to improve cerebral functions. By improving the cerebral functions it helps in improving the intellectual abilities.
Serves as a substitute for salts integrators: Due to presence of high amount of mineral salts it serves as substitute for artificial salts integrators. Dissolve one to two spoons of honeydew honey in a glass of water to obtain the desired salts. This property of honeydew makes it a best drink even for sports personnel.
study in january 2007 in the sultan qaboos university medical journal found that  Forest honey had the highest antibacterial
activity and it possesses antibacterial activity against Helicobacter Pylori. Combined with Black Seed (Kalonji) oil and taken 1 tsp of each every day for min two weeks or until symptoms have cleared if longer time needed.
Save
Save
Save
Save
Save
Save
Save
Save
Save