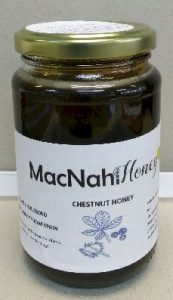 450g Raw Chestnut Honey  = £15     
Source: Spanish raw unblended honey  
dark honey with a unique flavor and rich sweet taste
Relieves fatigue: High amounts of fructose serves as good source of energy. Hence, a teaspoon of chestnut honey helps to relieve fatigue immediately.
Health Benefits: Rich in trace minerals and iron, vitamins B and C, Chestnut Honey strengthens muscles, blood circulation, regulating, liver and stomach, relieving fatigue, strengthens the immune system. Chestnut Honey brings positive effects to the respiratory and digestive systems.
Treats acne : Antibacterial action of this honey makes it ideal for treating acne. Use the honey directly as a face mask or mix it with oat meal to reduce inflammation and for exfoliation of the skin.
High in antioxidants / Good for digestion / High in minerals / Treatment for acne / Treatment for difficult coughs
Save
Save
Save
Save
Save